The Best Burgers in Bluffton, SC
If you're looking for the best burgers in Bluffton, South Carolina then look no further! We've gathered up the tastiest spots that are sure to make your mouth water. Whether you're a fan of classic cheeseburgers or something more unique like a patty melt, you're sure to find something that satisfies your cravings. So grab some friends and some napkins, and get ready to enjoy some burger bliss!
Chow Daddy's
There's no better way to satisfy a burger craving than with Chow Daddy's signature burgers.  With these mouthwatering choices, you'll want to try them all!
Menu Burgers:
Chow Daddy's Burger:
Soft buttered brioche, creamy Havarti cheese, baby arugula, garlic aioli, dijon and caramelized onions
American Burger:
Brioche bread, garlic aioli, yellow mustard and American cheese.
Mushroom Burger:
Warm brioche bread, homemade pimento cheese and garlic aioli.

Bacon and Blue Burger:
House ground beef, warm buttered brioche, crispy bacon, creamy blue cheese, homemade bbq sauce, shredded lettuce and garlic aioli
15 Towne Dr.
(843) 757-2469
www.chowdaddys.com
Squat N Gobble
This legendary eatery is known by EVERY Blufftonian. And for good reasons – the burgers! The Gobble and Big Fat Greek are their signature offerings that are unique and DELICIOUS!
1231 May River Rd.
(843) 757-4242
www.squatngobble.com
Old Town Dispensary
Old Town Dispensary – in the heart of historic, downtown Bluffton, SC – is THE PLACE for good friends, cold drinks and three fantastic signature burgers. Open 11 am – 12 am every day.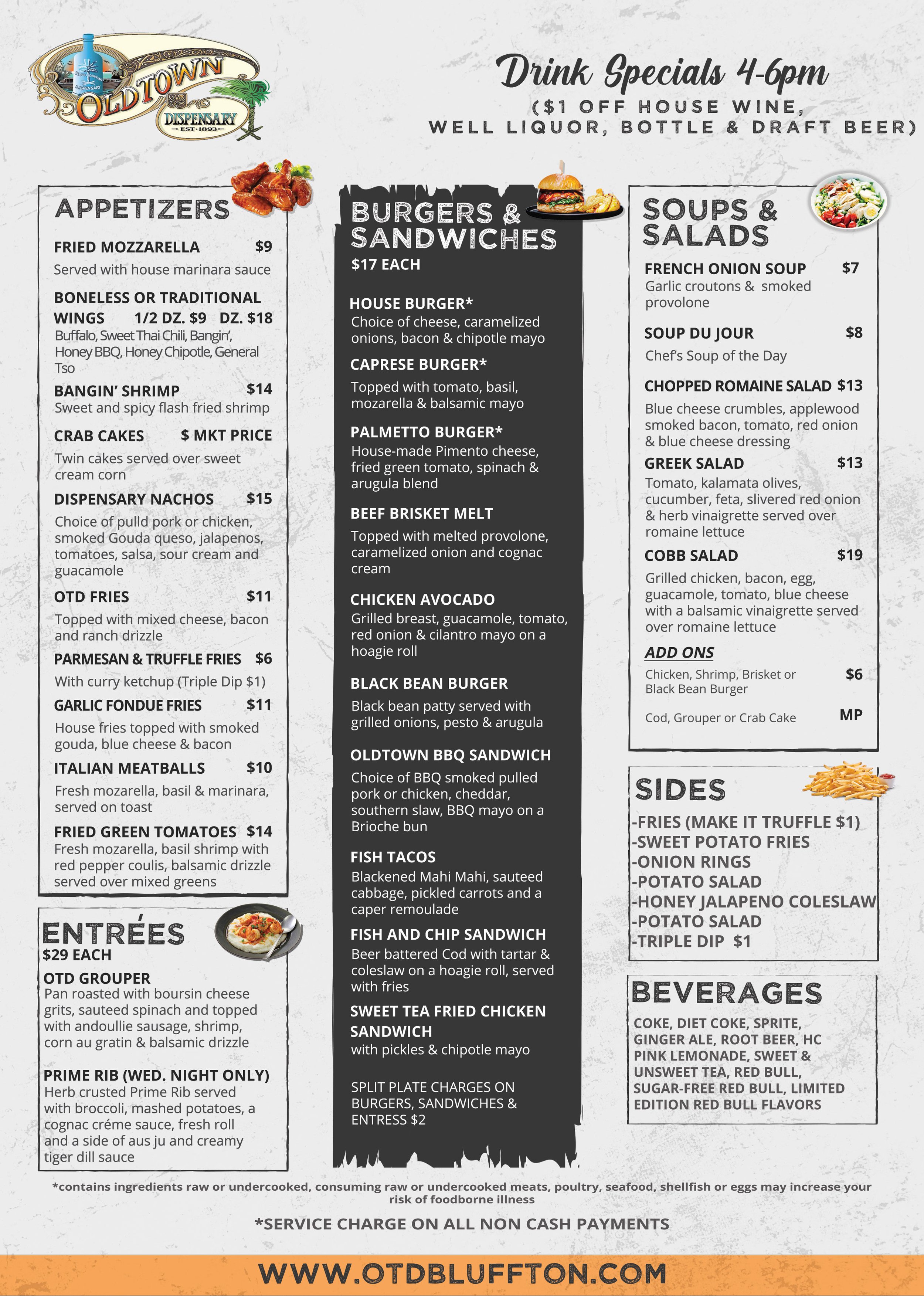 Salty Dog Bluffton
A Hilton Head Island legend with a hometown, Bluffton twist! At the Salty Dog Bluffton enjoy casual fare and huge 1/2 LB burgers!
Menu Burgers:
PRIME BURGER:
1/2 LB PRIME GROUND BEEF GRILLED TO PERFECTION, SERVED ON A TOASTED ARTISANAL ROLL WITH LETTUCE, TOMATO AND ONION. CHOOSE CHEDDAR, AMERICAN OR SWISS IF YOU PLEASE TO CHEESE. ADD BACON.
THE COOKOUT CRUSHER:
1/2 LB OF PRIME GROUND BEEF GRILLED AND TOPPED WITH CHEDDAR CHEESE, PULLED PORK AND BACON, SERVED ON A TOASTED ARTISANAL ROLL WITH LETTUCE, TOMATO AND ONION.
Located at Tanger 2 Outlets
1414 Fording Island Rd.
(843) 837-3344
www.saltydog.com/dine/bluffdog.html
Katie O'Donald's
A town favorite, Katie O'Donald's is a great place to go with friends and family. Situated in the heart of Bluffton, just off 278, you can't beat their burgers and the reasonable prices.
Menu Burgers:
TRADITIONAL PUB BURGER
Half Pound Burger, Served on a Kaiser Roll with Lettuce, Tomato, Onion Slices and a Pickle Wedge
PADDY'S IRISH MELT:
Half Pound Burger, Cooked To Your Liking and Served on Grilled Rye Bread with Sautéed Onions, Melted Swiss Cheese and a Pickle Wedge
BLACK & BLEU BURGER:
Half Pound Burger, Cooked to Your Liking, with Lettuce, Tomato, Onions and Pickle Wedge, Topped with Bleu Cheese Crumbles, Bacon Strips and Sautéed Onions. Served on a Kaiser Roll
All day on Mondays, take advantage of their  "TWO-FER BURGERS" with Two Burgers Cooked your way, Served with a Heaping Pile of Fries and your choice of either Soft Drinks, Miller Lite or Yuengling Drafts for $20. (Price as of August, 7, 2023. May be subject to change after time of posting)
TWO-FER BURGERS include:
#1 Traditional Burger  (with your choice of American, Swiss, Provolone or Cheddar Cheese) Add Bacon for $2 Extra
#2 Mushroom Swiss Burger
#3 Three Cheese Burger (American, Provolone & Swiss)
#4 Patty Irish Melt (Served on Rye Toast)
1008 Fording Island Rd.
(843) 815-5555
www.katieodonalds.com
No matter what kind of burger you're craving, Bluffton's got you covered. Enjoy your burgers Bluffton style – you won't regret it!